Accused of sexual harassment, L. Subramaniam plans legal action
2010-09-08 14:50:00
Last Updated: 2010-09-08 15:09:28
Bangalore: Three days after he was accused of sexual harassment by his domestic help, eminent violinist L. Subramaniam said he would take legal action and that she was trying to 'divert attention' from a theft case.
'The maid has issued a false complaint against me to divert the attention from the case of theft. I intend to take legal action against all those who are trying to spread these baseless allegations,' Subramaniam said in a statement from his home here on Tuesday night.
Subramaniam, who is married to Bollywood playback singer Kavita Krishnamurthy, had on Sep 2 filed a complaint of theft at his home against the maid, who used to do household chores, at the Sanjayanagar Police Station in Bangalore. He accused her of stealing cash and valuables worth Rs.6 lakh.
The maid had been engaged through an agency.
But Sep 5 evening, the maid filed a complaint of sexual harassment against him and then approached a newspaper Bangalore Beat, which printed her allegations in their afternoon edition on Sep 6.
In a statement made to police, Subramaniam said the maid's lifestyle had changed overtime, which made him suspect her of theft.
http://sify.com/news/accused-of-sexual-harassment-l-subramaniam-plans-legal-action-news-national-kjioOcdifca.html
…..
Domestic help accuses of sexual harassment by L. Subramaniam in retaliation to her being charged for theft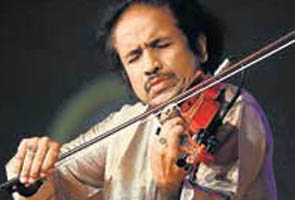 Violin maestro L. Subramaniam has been accused of sexual harassment by a domestic help whom he had named as a suspect in a case of theft from his house, police said in Bangalore on Tuesday. "The maid, Bhagya, has sent a complaint against Subramaniam through an organisation but has not herself
lodged a written complaint with the police," Bangalore city police commissioner Shankar Bidari told reporters.
"We will investigate if she files the complaint," he said.
Subramaniam had complained to the police Sep 2 that around 5,000 euros, Rs.55,000 and a gold chain were missing from his house in upscale Raja Mahal Vilas II Stage in north Bangalore.
Police said Subramaniam suspected Bhagya, 25, and she had been questioned over the missing cash and jewellery in the violinist's house.
However, on Monday, Dalit Rakshana Vedike (forum to protect Dalits) lodged a complaint with the police claiming that Subramaniam had been sexually harassing Bhagya.
"We have acknowledged the receipt of the complaint but no case has been registered as the maid herself has not lodged the complaint," a police official said.
Subramaniam and his singer wife Kavita Krishnamurthy have denied the sexual harassment charge and said they will fight it out.
Bidari said probe into the theft in the violinist's house was on and that no arrest had been made.
http://www.hindustantimes.com/Domestic-help-accuses-L-Subramaniam-of-sexual-harassment/Article1-597335.aspx
http://www.ndtv.com/article/cities/maid-accuses-violin-maestro-subramaniam-of-sexual-harassment-50452